ConvertKit Cyber Monday Deal : 3 Months Free on Annual Creator Pro Plan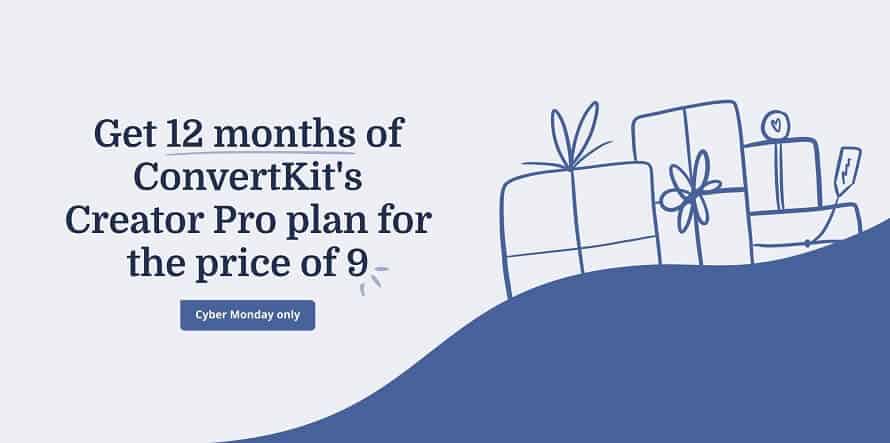 ConvertKit Cyber Monday 2021 Sale is Live Now – Technological development has observed several changes in the world. It has created opportunities so that talents can be used to earn money. Content creation is however not as simple as it seems.
You have to focus on proper marketing techniques for success. Email marketing can be difficult to navigate alone, so you need the help of certain tools.
ConvertKit is an email marketing provider that is designed by specifically keeping content creators in mind.
About ConvertKit
Email marketing is when you send emails to people with the intention of selling your services or products. E-commerce-based businesses and bloggers utilize this method to maintain a relationship with their customers.
With an inexpensive and appropriate marketing tool like ConvertKit, email marketing would feel less like unnecessary spam and more like a letter from a friend. ConvertKit was founded by a course creator who realized the difficulty for creators to grow easily.
His creation of ConvertKit was to targeted solve the problems that are faced by creators. ConvertKit provides various tools to ensure that you can grow your subscriber and customer lists so that your business becomes successful. ConvertKit fulfills the demands of all kinds of creators like musicians, novelists, photographers, etc.
ConvertKit Cyber Monday Deals 2021 Creator Plan 3M Free
Cyber Monday Only: Get 12 months of Creator Pro for the price of 9! Grab It Now.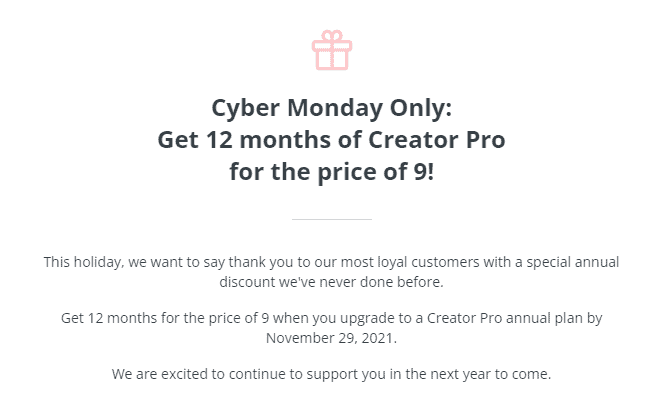 ConvertKit has three price packages so that it can be utilized by everyone, no matter where they are in life. They also provide Convertkit Cyber Monday deals so that it becomes even cheaper to earn a living off of your passion.
The beginner pack, of the three, is the free pack with which you get Unlimited landing pages and forms that are customizable, through ConvertKit. Apart from that, you can send out email broadcasts, sell digital products, and receive community support.
The intermediary or "creator" pack has additional features like migration from other tools, automated funnels, and sequences and it costs $9 a month. The "creator pro" pack provides you with all the tools necessary to sell your products.
Apart from the features from the first two packs, you can get Facebook custom audiences, a news referral system, subscriber scoring, and advanced reporting. Every subscriber or customer is different and with the help of their subscriber system, you can keep track of the most frequent customers so that you can build meaningful insights with them.
With insights, you would also know who are losing interest, so that you can re-engage with them, based on what they liked about your product. The complaints you receive will be tracked by ConvertKit to improve customer satisfaction.
It will also create targeted ads on social media sites like Facebook automatically. In short, ConvertKit makes sure the marketing of your products is completely automated and in your grasp so that you can concentrate on creating.
You should get your plan very soon since ConvertKit is providing a Special Cyber Monday deal where you can get 3 months free on the CreatorPro plan. The sale is going to go live on the 28th of November, 2021, and ends on the 29th at midnight.