With the development of digital technology, the rate of cyber-crimes has also increased drastically. Thus, it has become an utmost necessity to seek maximum security for your devices nowadays. Well, with a Virtual Private Network or VPN server you will be able to do so without any hassle.
Why you need VPN?
A VPN masks your internet activity by connecting your device with another server. If the server the VPN connects you to is from a different nation, someone trying to track your internet activities will think that you are from that country.
In other words, the VPN offers you absolute internet anonymity, security and makes sure you remain protected from any malicious sites.
As the Black Friday sale closes in, the best VPN brands are offering to get discounts and offers. Here are best black Friday VPN deals that you can check out below,
Surfshark Black Friday VPN Deal 84% + 2 months free
Though it is relatively new to the market, it has gained huge popularity for the extraordinary service they offer. This VPN has over 1000+ servers in about 60+ countries. It offers the utmost speed and reliability to its users.
This VPN comes with strong military-grade encryption and it does not share its logs with any organization. Thus, it promises to keep your data safe without any hassle. Having apps for all major platforms, the Surfshark VPN also offers connectivity for an unlimited number of devices without slowing the speed of the server.
As unexpected as it may seem, Surfshark has already announced a drop in their prices for surprising the clients during the Black Friday sale. You can now avail three free months on top of their two-year plan. Thus, it offers you this plan at just $2.05 per month+ 3 months free in compare their previous deals and helping you to save almost Get 84% off + 2 months free on this deal.
PureVPN Upto 87% OFF
PureVPN is one of the most recognized names in the industry for the services they offer. With over 2000+ servers in more than 140+ countries, PureVPN offers reliable and trustworthy service.
Most importantly, it supports app for all major streaming services and it does not keep any log on your internet activity. And if you feel unsatisfied with their services then you can get your money back since they offer 31 days money-back guarantee.
During the Black Friday sale, PureVPN will offer their 82% off on PureVPN's 2-year + 3 months free plan or Get PureVPN's 5-year plan at 87% OFF . It means you will be able to avail the plan at just $1.41 per month thus helping you to save almost 87 percent on the usual price.
IPVanish Extended Cyber Sale 71%
IPVanish is undoubtedly one of the best VPN services around the world. It offers more than 1300 servers in over 50 countries. The best thing about IPVanish is the fact that it offers robust P2P traffic.
Plus, it makes sure that you get quick connections. Furthermore, with this VPN service, you will also get powerful apps for all major platforms. It also provides you with 7 days money-back guarantee in case you do not feel satisfied with their services.
IPVanish is offering huge price slash on their 1 year package + 3 Months Free during this Black Friday Sale Up to 71% saving. You will be able to avail their services at price as low as $3.19 per month.
NordVPN get 68% off + 3 months free
NordVPN is without any doubt one of the top VPN services in the market today. It offers a plethora of servers across the globe. So, you will be able to enjoy the high speed and quick server irrespective of your location.
Furthermore, you will also get very fast P2P traffic with this virtual private network service. As a matter of fact, this VPN also provides you with several apps for different platforms. And it allows you to use them over six different devices unanimously with a single subscription.
On the occasion of the Black Friday sale, Nord VPN has cut prices for its best value 2-year plan. As a matter of fact, you will able to avail this plan at price as low as get 68% off + 3 months free.
Grab It Now
Express VPN 3 Free Months
One of the oldest VPN services around the globe, the Express VPN is highly revered for the best quality services that it offers. One of the most intriguing things about this VPN service is that it offers over 3000 servers in more than 94 countries across the world.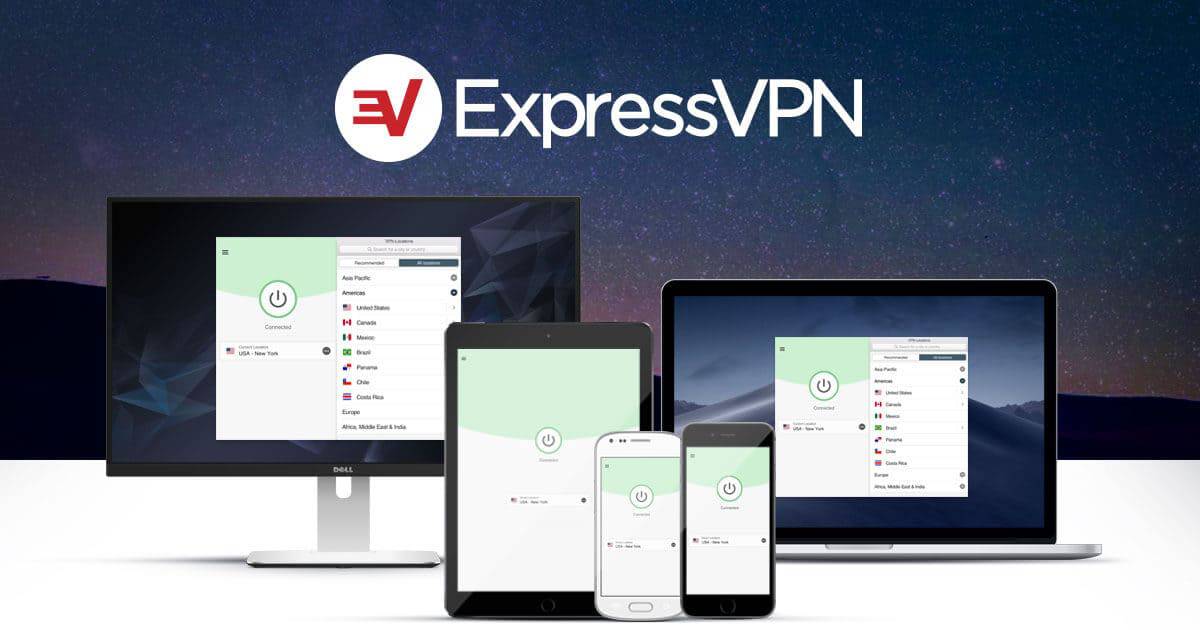 So, you can only imagine what incredible speed Express VPN will provide you with. Furthermore, it does not retain any user logs and also offers apps for most of the major platforms.
Most importantly, it provides you with incredible customer support 24/7 such that you never face any trouble. You will also get a 30 days money-back guarantee if in any case you do not get satisfied.
If you are looking forward to getting an Express VPN subscription then you must do so during this Black Friday sale as you will be able to get the best value for money. Express VPN is offering you to avail special 15 months plan at the price of their 12 months plan during the Black Friday sale event. So, make sure to not lose this opportunity.
CyberGhost
Though it is placed last night on our list, it is undoubtedly a great VPN service. CyberGhost believes in efficient service over anything. As a result, you get great speed as well as performance.

Furthermore, it provides you with 5700 servers in over 50 countries. Hence, you get high speed irrespective of your location. You will get a user-friendly interface proficient for every age group. Lastly, it also offers a 45-day money-back guarantee along with this service.
As their Black Friday deals, they are offering you the impressive 2-year plan at a 83% discounted price thereby only paying just $2.17. Keep your eyes on this plan to help you gain web security.
Private Internet Access – 3 Years + 3 Months FREE
Private Internet Access or PIA as it is called popularly is one of the best VPN services across the globe. This VPN has over 3375 servers in over 32 countries. The things that make this VPN service so robust is their efficient performance and unlimited bandwidth.

So, you can only wonder about the speed and connectivity that you will get with this VPN. Above all, it also offers ten different devices to connect with it simultaneously without any issue apart from apps for major platforms. It is also encrypted with WiFi for more security.
Best Black Friday Cyber Monday VPN Deals 2022
The Black Friday sale event witnesses some major discounts. And the VPN industry is not different either. Go through the deals above and choose the best one for yourself. Most of these plans are available till 4th December, so remain vigilant to get only the best.