Kadence WP is one of the leading developers of WordPress templates and themes that ignite a new life into any and every WordPress Blog. Kadence WP is useful for your blog, even if you are a beginner or a professional.
With its powerful tools and support packages, Kadence gives you all the tools you need to create the perfect WordPress website for your passionate projects.
And that's not all! In the spirit of the festive season of Thanksgiving Day and Black Friday, Kadence WP has announced an amazing Black Friday Sale on three of their bundles! This Black Friday Sale will be available throughout the month of November 15(Live Now) – November 29, but that is no reason to delay.
Both the bundles will offer you two amazing products from Kadence, the Kadence Theme Pro, and the Kadence Blocks Pro. Kadence Theme Pro is an ultra-lightweight, intuitive, and easy-to-use collection of themes that you can use in order to build your own website.
The themes are all fully customizable, and you get a huge variety of them to fit your every need. The Pro version of Kadence Theme gives you even greater control over the scripts and the headers and footers. The second product called Kadence Blocks Pro is for the advanced user who wants to build their own WordPress blog from scratch.
Based on CSS and JavaScript, Blocks Pro is the WordPress blog building software that gives you the ultimate control. You can freely edit text, controls, backgrounds, and layouts, in a UI that is simple and fun to use.
First off, you have the Essential Bundle that is originally priced at $149 but is now going for a heavy discount of 40% where you can buy it for just $89.40.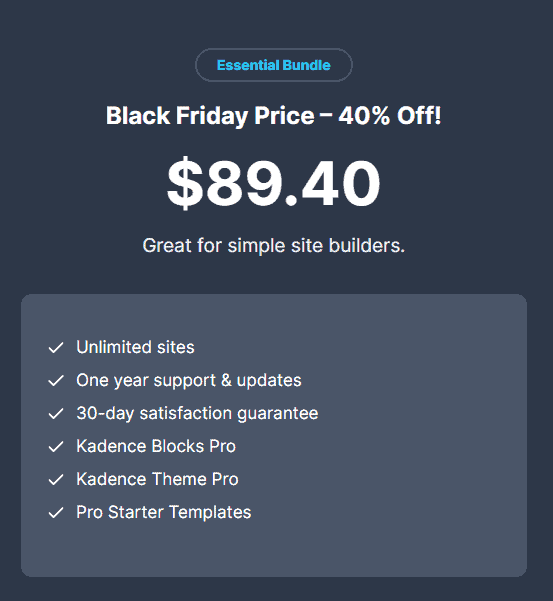 But wait, if you want to have an even greater experience of the Kadence ecosystem, you can pay $131.40 instead of $219 to buy the Full Bundle that gives you access to some sweet features like Kadence Cloud, Child Theme Builder, Kadence Conversions, and a bunch of plugins.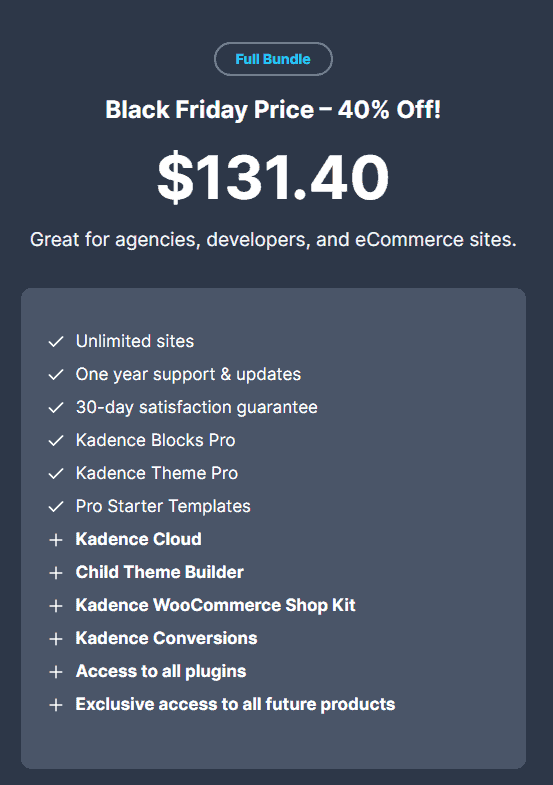 So make sure that you don't miss out on this limited Kadence Lifetime deal! Flat $200 Off Now,