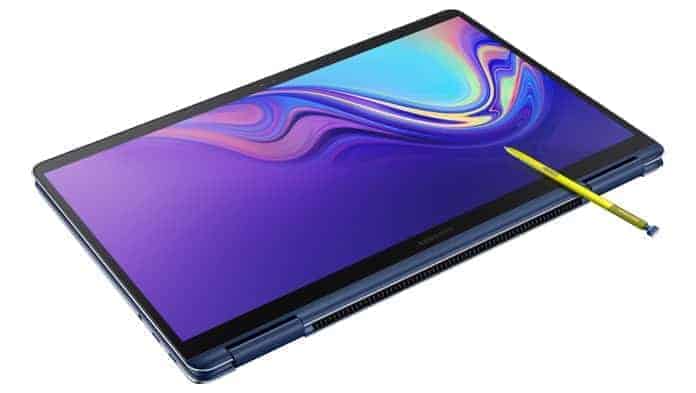 Samsung Unveils 2019 Notebook 9 Pen 13 and 15
Samsung introduces Notebook 9 Pen, a 2-in-1 PC with built-in S Pen.
Recently Samsung has launched its new next generation notebook 9. The best part of this new launch is that it can be converted into laptop. Product will hit the market next year that is in 2019. This model is introduced with a 13.3 or 15 inch display.
Professional who demand a package of Intel's Core i7 CPUs performance along with the convenience of a stylus will definitely love this product launched by Samsung. Sounds interesting right? Well here we have given all the details and specifications of this Samsung latest launch, have a look:
Samsung 2019 Notebook 9 Pen 13 and 15 Specifications
Notebook 9 is available in three versions Pen 13 (2018), Pen 13 (2019) and Pen 15 (2019)

Notebook 9 Pen 13 is having 13.3″ RealViewTouch display with 1920×1080 resolution and the Notebook 9 Pen 15 (2019) is having 15.0″ RealViewTouch (?) type.

Notebook 9 Pen 13 comes with 8th Gen Intel Core i7 (KBL-R) CPU whereas the Pen 13 (2019) and Pen 15 (2019) comes with 8th Gen Intel Core i7




(Whiskey Lake?)

Talking about the Graphics, the Pen 12 has Intel UHD Graphics 630 (24 EUs) and Pen 15 has NVIDIA GeForce MX150 2 GB graphics.

Samsung Notebook 09 comes with Up to 16 GB DDR4 memory whereas the Pen 13 (2019) and Pen 15 (2019) has LPDDR3 memory.

Coming to the storage capacity, the Samsung Pen 13 has Up to 512 GB PCIe memory with microSD card reader and Pen 15 has PCIe/NVMe SSD with UFS + microSD card reader

For long life the Notebook 09 has 39 Wh battery and Notebook 9 pen 13 (2019) and Pen 15 have 54 Wh batter

Coming to the sound, for audio Samsung Notebook 09 pen 13 has 2 × 1.5 W speakers, 1 × microphone and 1 × TRRS jack whereas the Notebook 09 pen 15 has Stereo speakers




with ThunderAmp, 1 × microphone and 1× TRRS jack

Talking about the size, dimensions of the product are:

Samsung Notebook 9 Pen 13 (2018) has 310.5 mm width, 206.6 mm depth and 14.4 – 16.5 mm thickness with 995 g | 2.19 lbs weight.

Samsung Notebook 9 Pen 13 (2019) has 307.9 mm width, 206.2 mm depth and 14.9 – 15.9  mm thickness with 1.12 kg | 2.47 lbs weight

Samsung Notebook 9 Pen 15 has 347.9 mm width, 229.1 mm depth and 16.9 mm thickness with 1.56 kg | 3.44 lbs weight